F1 Blog
Val Alford (admin) on: F1 Blog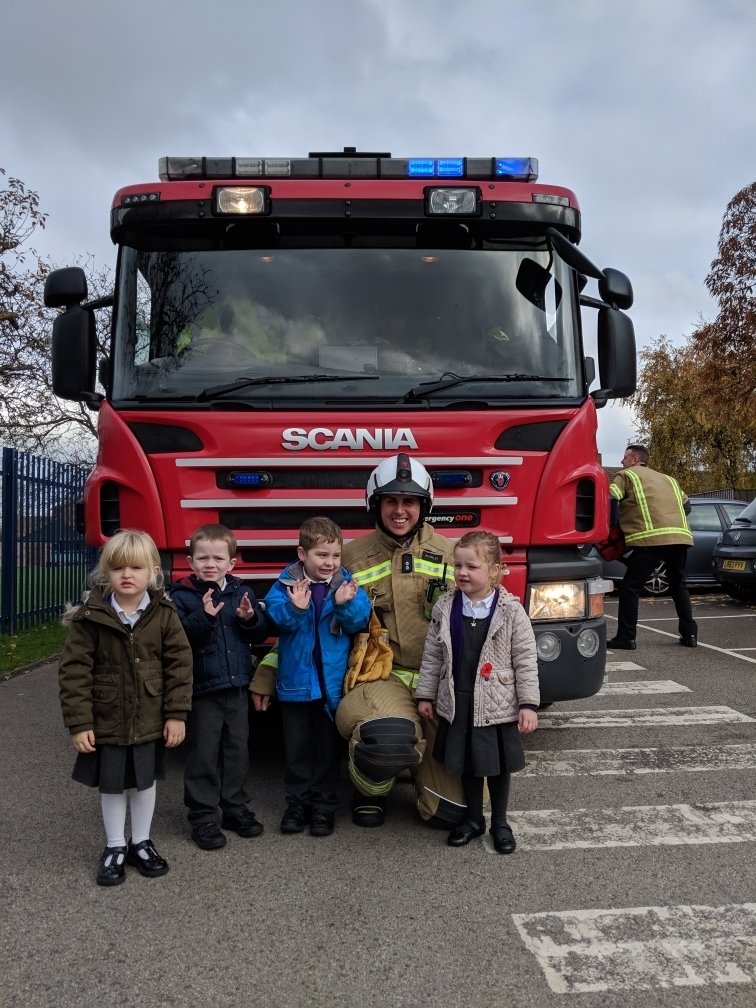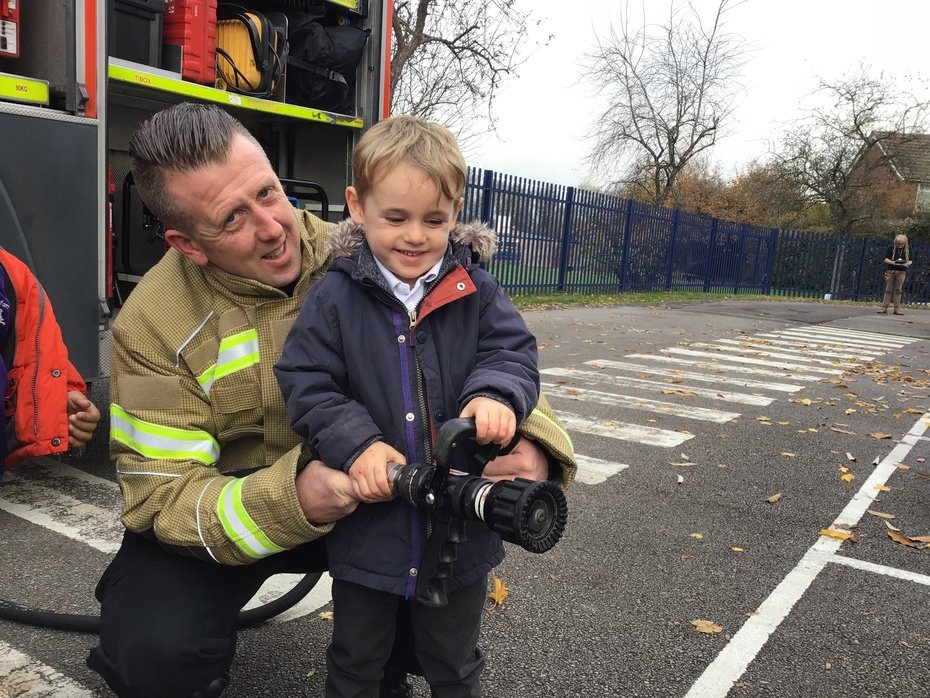 It's been a fun packed week with a visit from the fire service. We had a tour of the engine, climbed up into the firefighter's seats and held their big hose! We had a session on what fire fighters do and their safety clothing, along with learning a dance called stop, drop and roll. It was so much fun (as well as being an extremely valuable learning experience!).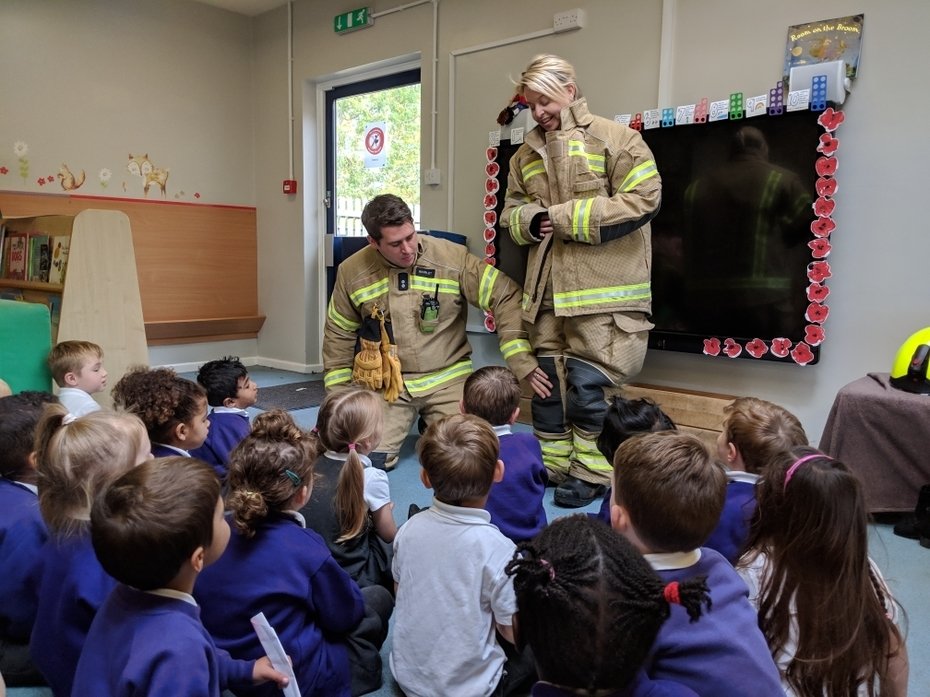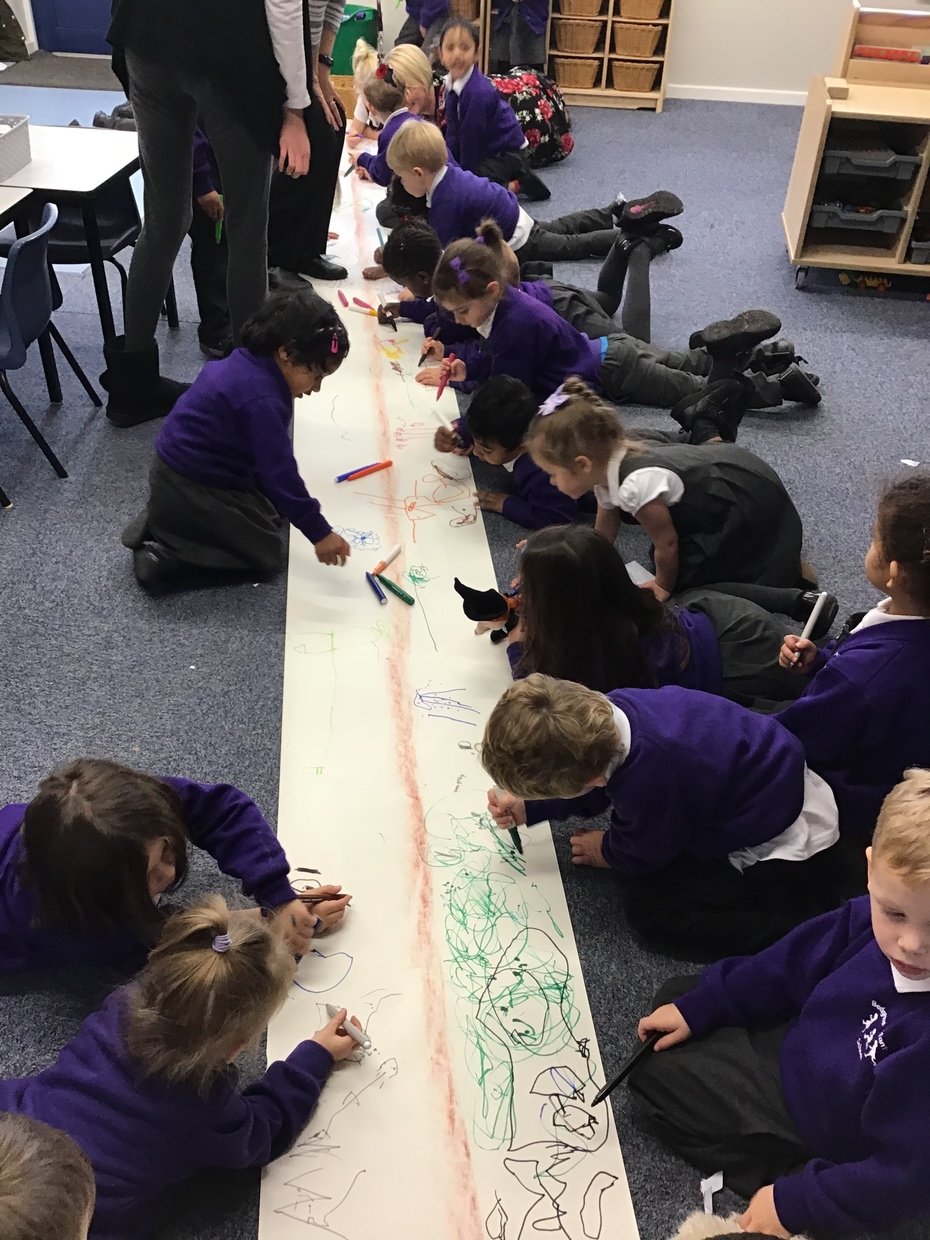 The story 'Room on the Broom' helped us to continue our rhyming, as the children made rhyming spells with rhyming strings such as frog, dog and bog. These are displayed in Hedgehogs and Foxes room. We had a really long broom that the witch asked them to draw an animal on. This is displayed up high in Squirrels and Badgers corner. It was a really fun activity that got them all mark making for a purpose.
This week's maths focus continued to embed the children's knowledge of 1-5. We also worked on trying to fill the baseboards with numicon. This required the children to problem solve and develop their spacial awareness, filling the gaps with smaller numicon.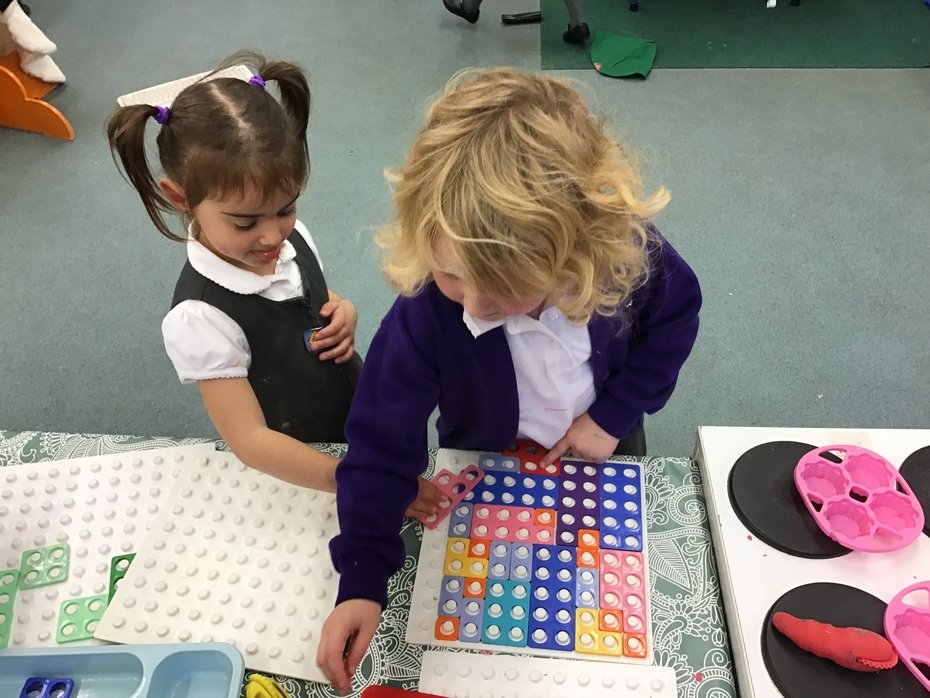 We watched a short BBC clip on remembrance day, which was a really gentle introduction to why we wear poppies. The children then went on to print their own poppy with half an apple and their finger print to show respect. We have displayed these around the Interactive Whiteboards. I am sure you'll agree they look very smart.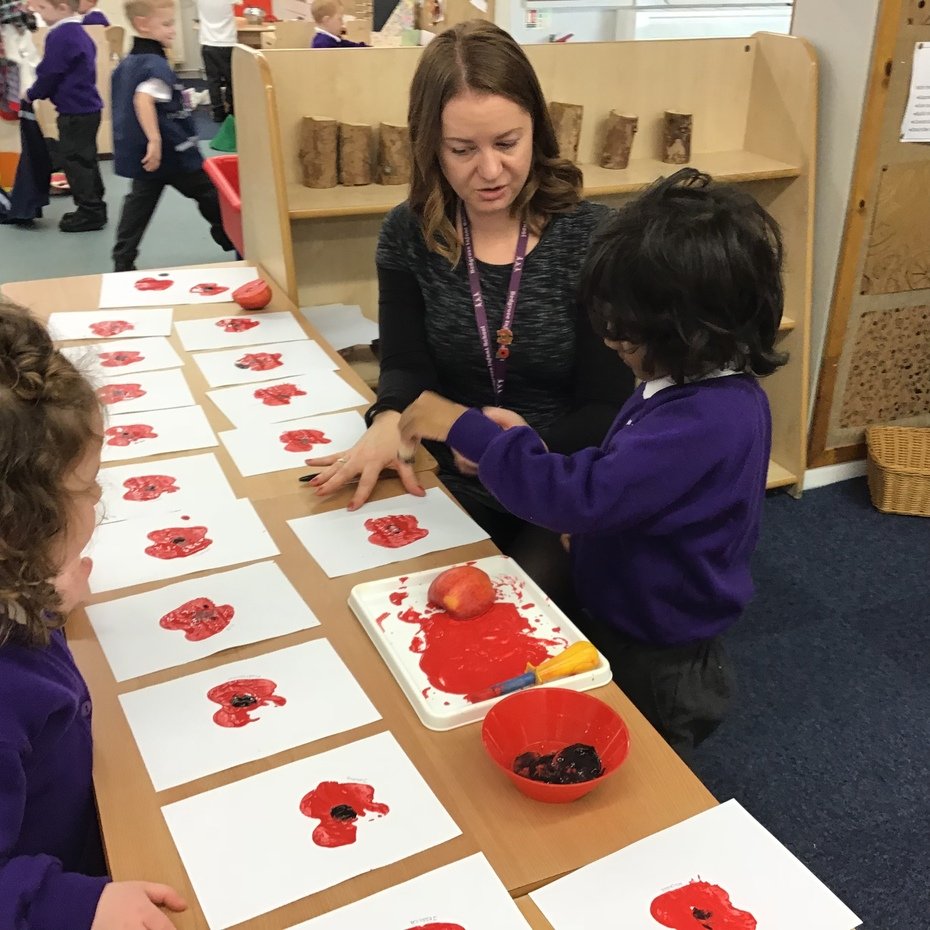 We felt that because the children have really enjoyed activities that have included animals this week and they always love role playing journeys on trains, cars etc when they build large constructions, we are going to use 'All Change' written by Ian Whybrow. The nursery rhyme will be:
As the children are really enjoying their learning around numbers we have planned to move on with learning the number 6 this week and we will start to look at 2d shapes, starting with a circle.
Just a little note to say that when some parents filled out their forms at the beginning of the year they opted out of their children's photos being used for things. We have had some parents come forward to change these options as they would like their child to be able to appear on the blog. Please talk to your child's group leader if you wish to change this and they will be able to advise you what to do.
---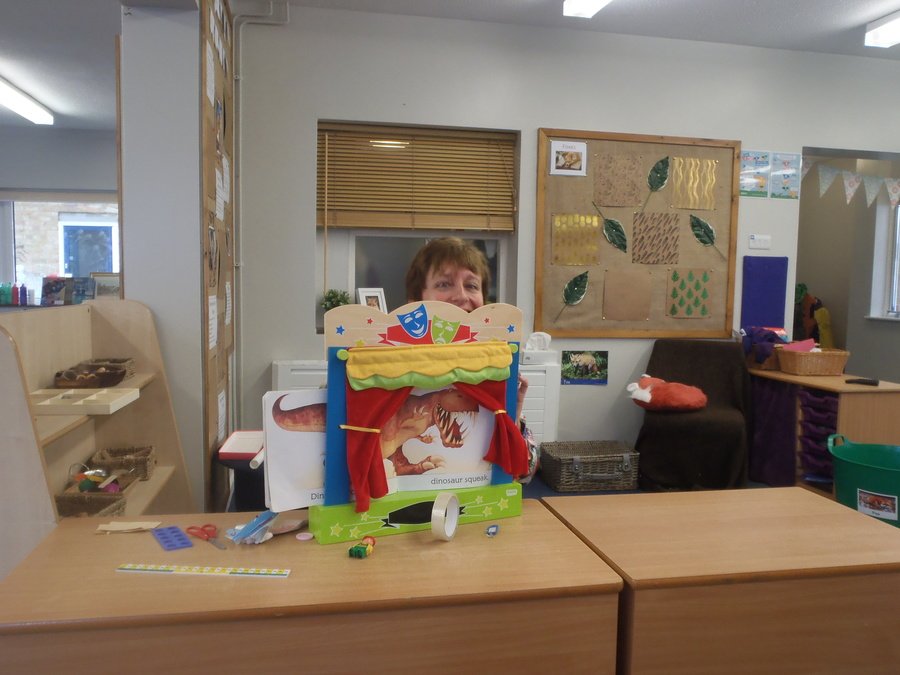 14th September 2018
What an amazing start to the year your little ones have made! Their personalities are shining through already. The children have been having a fantastic time exploring all of our provision and getting to know the other children in their groups.
There has been a buzz about treasure in our 'Loose parts' area, created by us adding a few jewellery boxes. You may have noticed that we have moved our outdoor construction area. This is because it was so popular that we needed more space. As you can imagine the cars and bikes are a highlight to their day. They've danced in the garden to music and Mrs Warwick has entertained us with a puppet show. She sold her tickets and made us laugh with her great acting, which some children replicated following her performance.
We know that children have differing preferred learning styles, therefore we have given them the opportunity to listen to the story of the week. 'Dear Zoo' told with puppets, we have been outside acting out the movements of the animals and we have made a story map using the pictures of the animals and their boxes. You may have seen some of the stories that the children completed as they are displayed in the Squirrel's corner. If you ask them what animals the zoo sent, I am sure you will get a list of naughty, tall, grumpy, jumpy animals.
Those children staying to enjoy our chef's delicious meals are eating them with gusto. It is so sweet to see them sat with their lunch tray and socialising with their new friends.
The children have shown a fascination around the play animals this week, along with the home corner. We thought that these interests tie in nicely with 'The Tiger who came to tea' book by Judith Kerr and we look forward to some great tea parties. Our rhymes of the week will be 'I'm a little teapot' and 'A Leopard has lots of spots'.
Story: The Tiger who came to tea:
7th September 2018
Thank you for attending your child's settling in appointment today and a special thank you for your support and understanding regarding the change of appointments due to this week's events. It was so great to see our new children confidently exploring the environment and so eager to start in F1. We had some very keen builders in our outdoor construction area and both of our role play areas have proved a hit!
We are really looking forward to all of our new children coming for their settling in sessions on Monday or Tuesday next week. This is now the time that your child should be left with us.
Each week we will be focusing on a story, which will be influenced by the children's interests. There is a story tree in the middle room that we will hang miniature books on to display all of the stories that your children will have focused on throughout the year. We can not wait to see how it blossoms. Next week we will be looking at 'Dear Zoo'. We thought that this would be a great interactive story that may be familiar to some of the children. We will also have Nursery Rhymes of the week and will be starting with the old classic 'Baa baa black sheep'. Singing is a fantastic way to develop their speech and language skills.
Click on this link to find the song:
http://www.bbc.co.uk/learning/schoolradio/subjects/earlylearning/nurserysongs/A-E/baa_baa_black_sheep
Next week's learning will mainly be based around the children getting to know our setting, the adults that are caring for them and their peers. Exciting times!
Foundation 1
The Woodlands
Learning through play is the only way!
As the children embark on their exciting journey through education, we are passionate about making this a fun and happy start: inspiring a life long love of learning.
Young children learn best through their engagement in play. We resource the environment and support their learning by following the children's fascinations and interests. Their ability to access and choose freely encourages the development of the characteristics of effective learning. Our provision stimulates the children's natural curiosity to interact with the world and make sense of it. They have free access to a range of child initiated and adult led activities both indoors and outdoors, which cover the Early Years Foundation Stage curriculum.
The nurturing nature of our Nursery team means that children feel secure and are able to develop strong relationships with both the adults that care for them and their peer group. Our Early Years Practitioners have key groups which include Foxes, Hedgehogs, Badgers and Squirrels. The children have a group time, which is a short focused activity based on maths, phonics, literacy and physical development.
Each week, based on our observations of the children's interests we choose a story which influences a number of activities that are offered to the children. The text is read throughout the week and is delivered in a variety of ways; using puppets, story mapping and acting it out. The repetition of the story means that it influences the children's play, extends their vocabulary, build's their knowledge of stories and their structure, extend's their repertoire of books and promotes a love of reading. By the end of the week the children have a real ownership of the story and are able to join in with telling the story themselves.
The benefit of the children attending our Nursery provision means that their transitions to school are smooth. They are familiar with routines, behavioural boundaries & expectations and the F2 team. All of which means that we are able to send the children off to their first day at school well prepared, confident and ready to learn.
NURSERY PLACES SEPTEMBER 2018
In September 2018, we will be offering the following options when you register for a place in our Nursery (Foundation 1 class)
* 15 hours funded place: all 3-4 year olds are eligible for free 15-hour Nursery education and you can join us from 8.45 am till 11.45 am each day.
* 30 hours funded place: if you are eligible for a free 30-hour nursery education you can join us from 8.45 am till 2.45 pm each day. (Please go to www.childcarechoices.gov.uk To find out if you meet the criteria for one of these places)
* 30 hours top-up place: if you are not eligible for free 30-hour place you can opt to pay for the extra five afternoon sessions at £19.50 for each day.
* 24 hours funded place: if you are eligible for a free 30-hour place but would prefer your child to come for more than 15 hours but less than 30, we are offering a 24-hour place, where your child comes all day (8.45-2.45) Monday, Wednesday and Friday and mornings only (8.45-11.45) on Tuesday and Thursdays.
* 24 hours top-up place: if you are not eligible for free 30-hour place you can opt to pay for the extra three afternoon sessions; Monday, Wednesday and Friday at £19.50 per session.
If your child is here all day, you have the choice of providing them with a packed lunch or buying a hot school meal at £2 per day. Our meals are all cooked freshly on site each day by an experienced chef who used to work in hotels in London and his amazing team! Our menu is available on the website under the Parents tab for you to see what we offer.
We have a before and after school club called Sunflower Group, running from 8.00 am till 9.00 am and 3.00 pm till 4.00 pm to extend your day a little further. Your child will be taken from Sunflower Group to Nursery in the morning and from nursery to Sunflower Group in the afternoon. The cost of this is £3 per session (morning or afternoon) and is bookable through our online ParentMail system once you are a parent of our school.
We also have Grover Club on site, a private Before and After-School Club, running from 7.30 am till 9.00 am and 3.00 pm till 6.30 pm each school day and full time in the school holidays. Grover take children from when they turn 4 years of age up to 11 years old (children can remain with them once they transfer to the Junior school for Year 3). Their Manager, Mrs Carter, can be contacted on 07879 876 830 to book a place on their waiting list. They are very popular!
Please contact the school office on 01296 481353 to talk to Theresa Headley about our Nursery places.