Foundation 1
T Turner (tturner) on: Foundation 1
Wow, what a fantastic start to the year!
The children's first days have been very calm and relaxed. They have settled in really well and are clearly enjoying exploring their new environment.
We have introduced the children to each other during circle times, with a variety of games. They have thoroughly enjoyed the ramps and cars. The home corner is a hit! Tipping water down the guttering is so much fun, but we tend to get very wet as you may have been able to tell by the changes of clothes. We have made a road and toll barrier that the children have used with the bikes and scooters.
Many of the children have been sharing their knowledge and passion for animals, therefore we next week we will be using the story 'Rumble in the jungle' by Giles Andreae to enhance their activities and group times.
If you have any pictures of your pets or a time when you and your child have been to the zoo/farm, please can you send them in. You can send in hard copies (please be aware that we will be unable to return them, so no precious photos, thanks) or you may send them to the home learning email address.This email address is only for sharing their home learning. For all other enquiries, please use the office email.
homelearning@bedgroveinfant.co.uk
Just a few notes for you to be aware of:
If you are collecting at 11.45, you can only use the front entrance.
We have water accessible all day, so no water bottles are needed.
Please can you ensure that we have your collection rotas back.
Please do not bring in toys from home (We'd hate them to get lost or broken).
Scooters and bikes must not be used in the playground and must be taken home with you.
Please ensure that all belongings are labelled.
---
F1 Blog
V Alford (admin) on: F1 Blog
This week we have read the story 'We're going on an egg hunt'. It was such a beautifully illustrated book with lift the flaps. The wolf at the end of the story instigated us playing 'What's the time Mr Wolf' in the garden.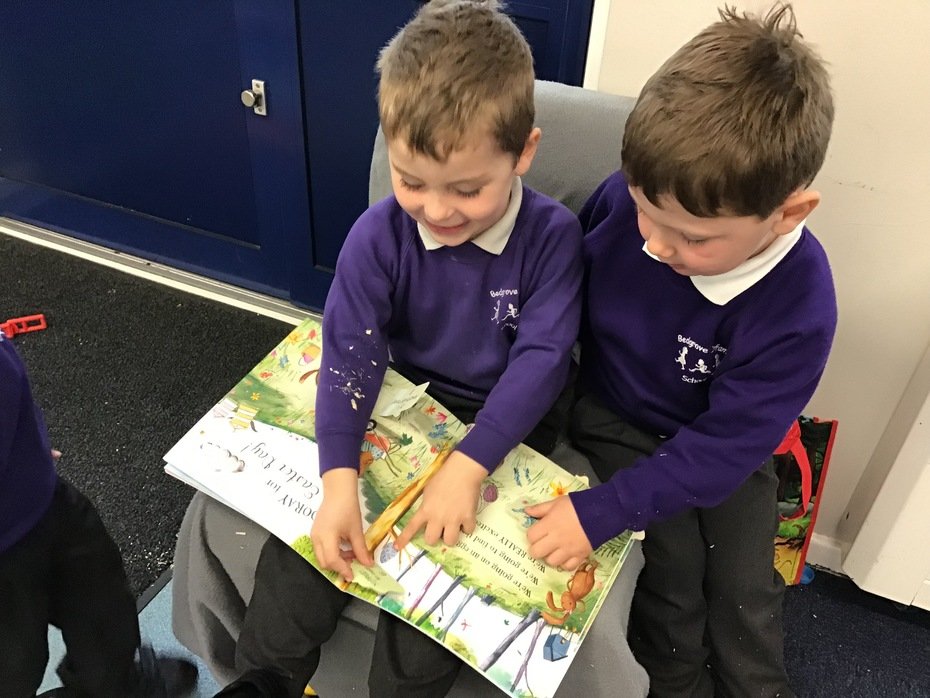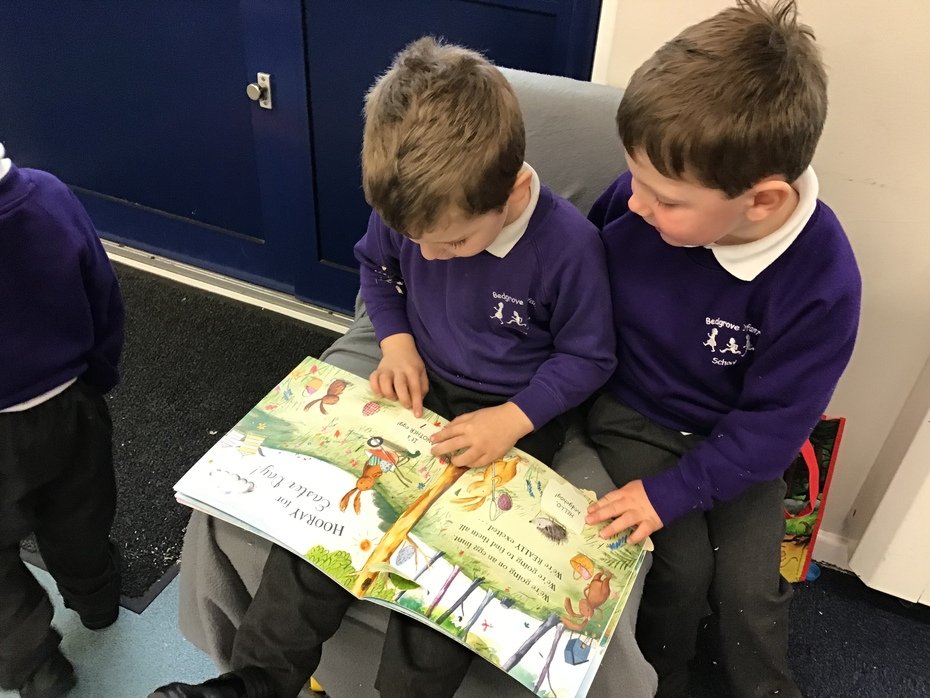 Our beanstalks are growing fast. We have been comparing the sizes of them using mathematical language such as shortest, tallest, shorter, taller. We have sent them home for you to take care of. Please send in pictures if they grow well.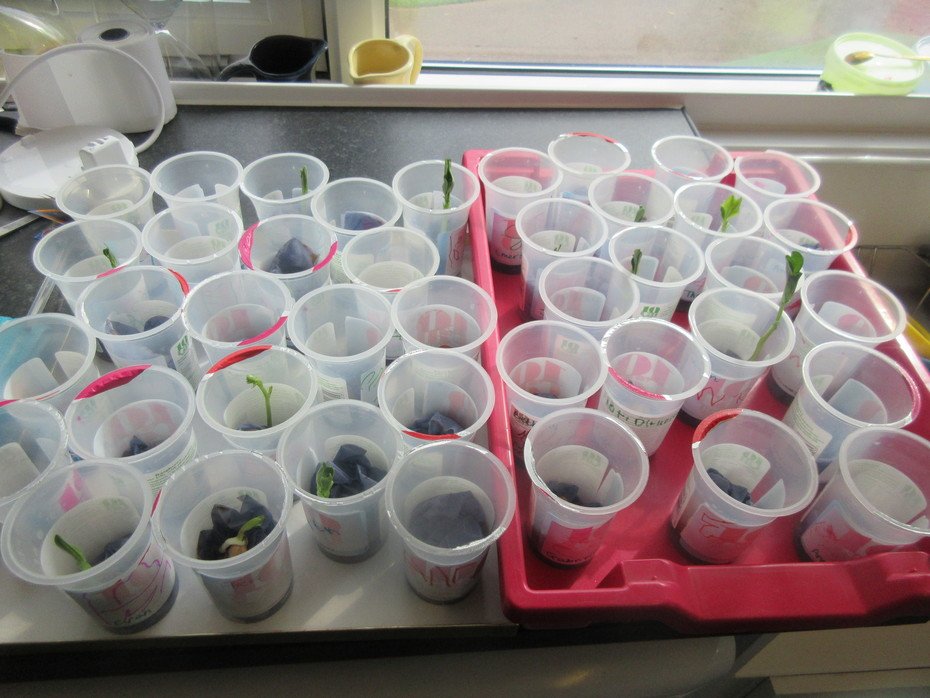 We have focused on repeating patterns and have seen how they can take the form of actions, threading, printing shapes and even when we line up; boy, girl or jumper, no jumper.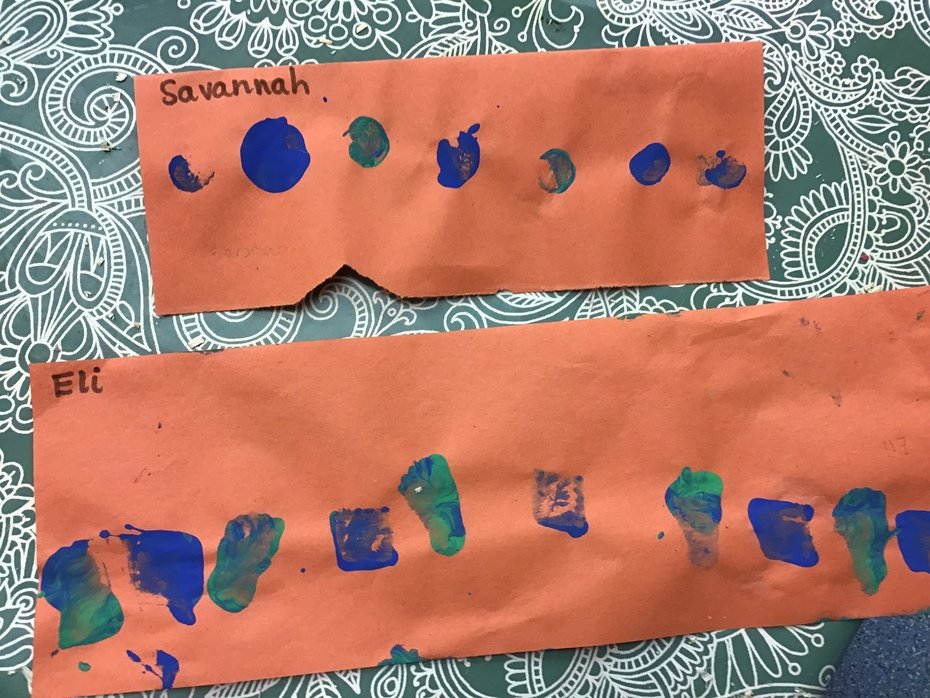 The Easter bunny came early dropping some plastic eggs in our garden, so we got into teams to see who could collect the most eggs for him. We compared our quantities and checked by counting them, recording the numerals.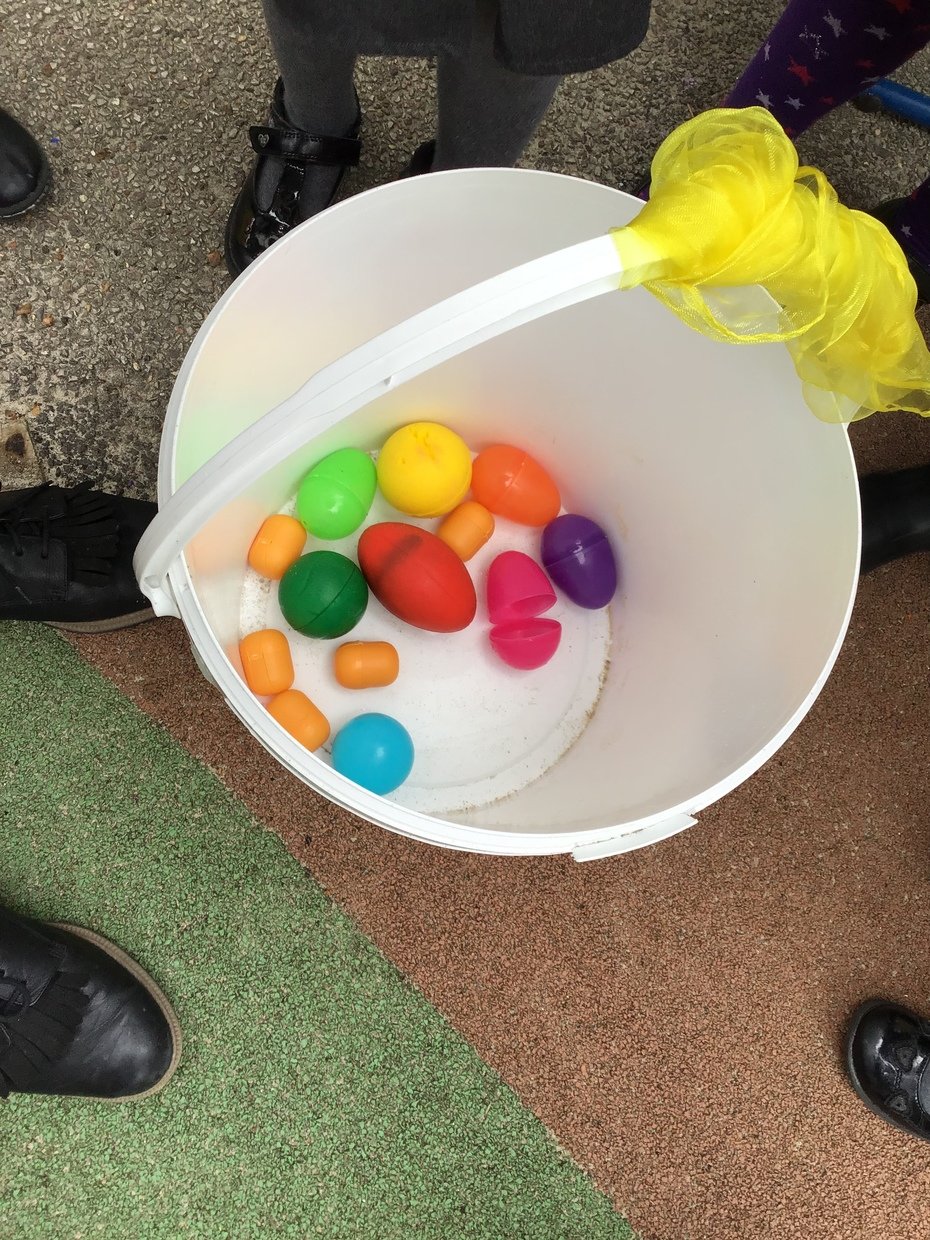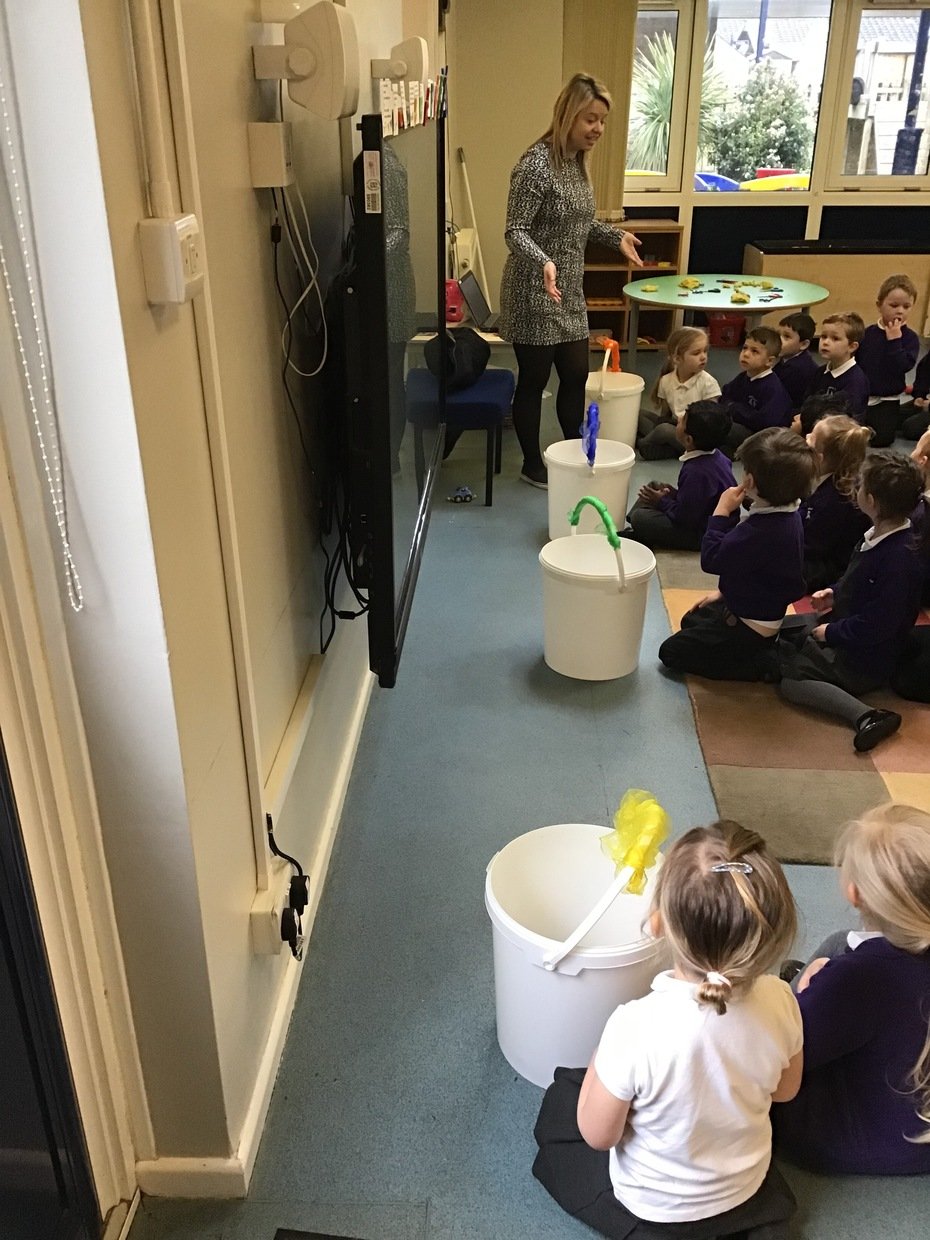 In P.E we have been practicing our throwing and catching skills with bean bags and we learned the moves to a song that had a repeating pattern to it!
We would like to thank everyone who came along to watch our Easter Parade. Thankfully the rain held off! The hats were amazing and it was clear to see how much hard work went into making them. The children even kept them on during lunch! Well done to all!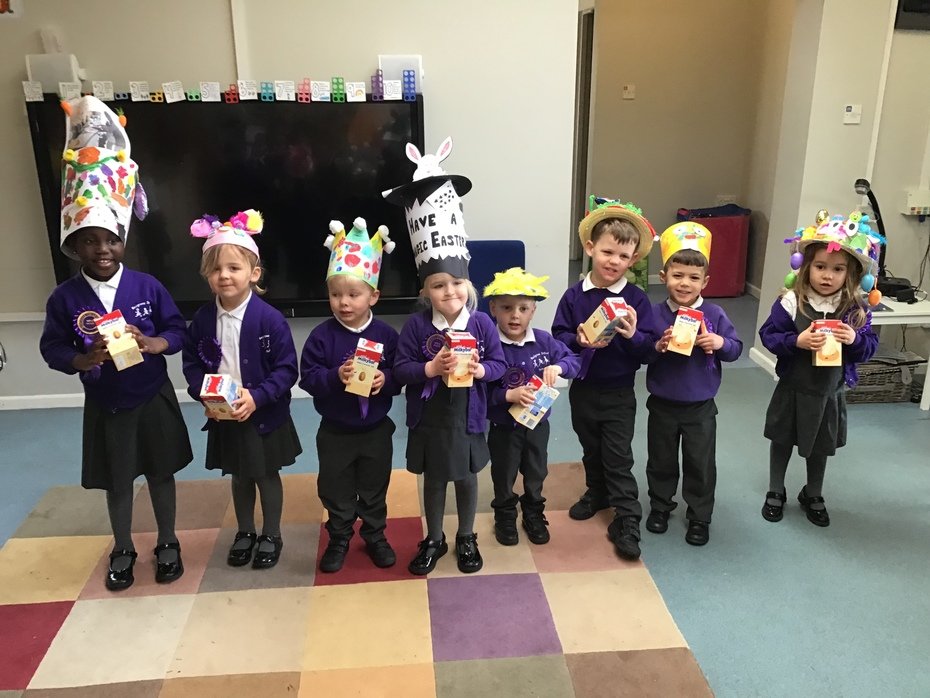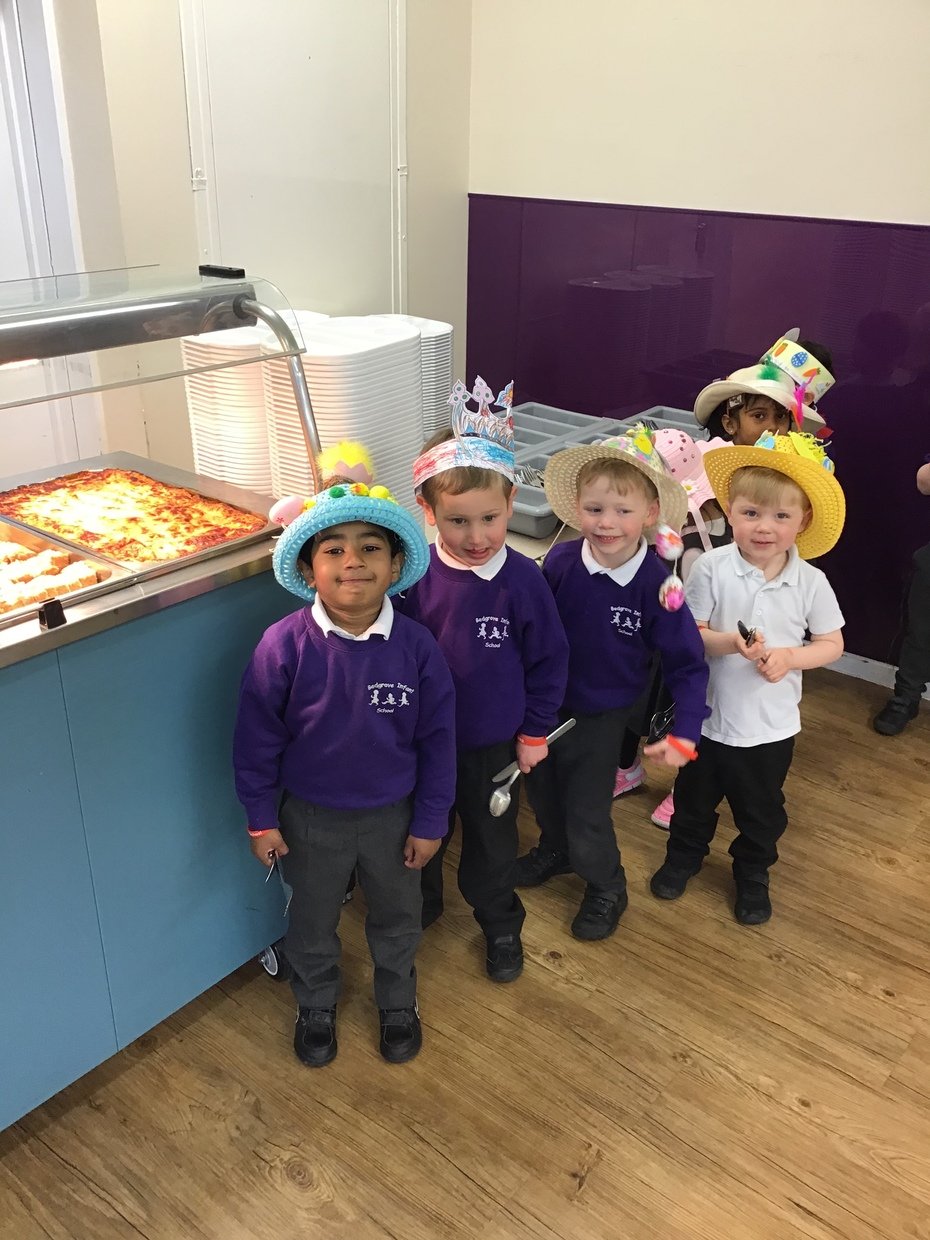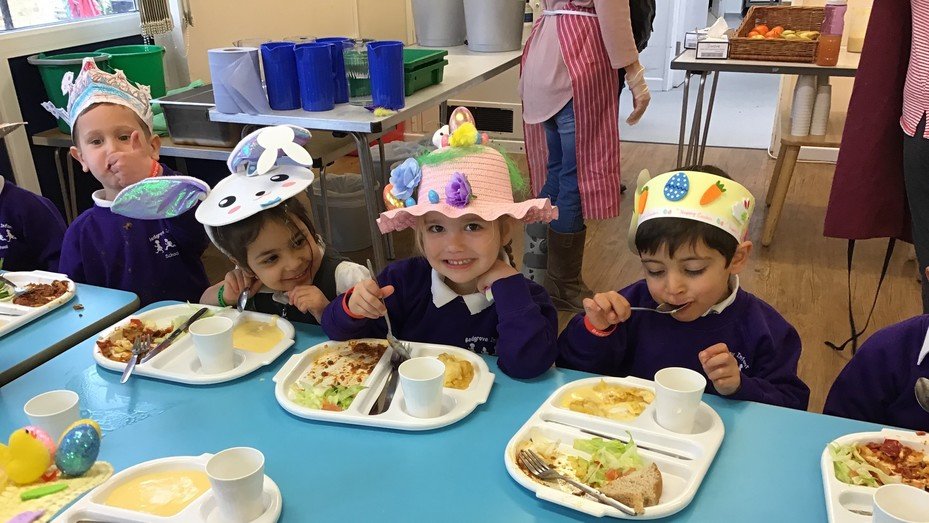 Please remember that children should be dropped at the gate in the mornings, in readiness for F2. The children seem to love the independence of walking in to the Nursery by themselves, when given the opportunity.
After Easter the story of the week will be 'Whatever Next' which is a lovely story about a bear that flies to the moon in his cardboard box. We will also have your Grown-up Group Times on the Thursday and Friday. The letters have gone out to inform you of your session date and time.
The F1 team would like to wish all of those celebrating a very Happy Easter! We hope that you all have an amazing time off. See you next term. Please remember that there is an inset day, so the children's first day back is Wednesday 24th April.
---
V Alford (admin) on: F1 Blog
Spring has sprung and the weather has been brighter this week, meaning that we have been able to enjoy some warmer weather outside.
The tree surgeons came to cut back some of the trees overhanging from the spinney. The children watched on in awe as they worked. We even caught one of them reading – UP THE TREE!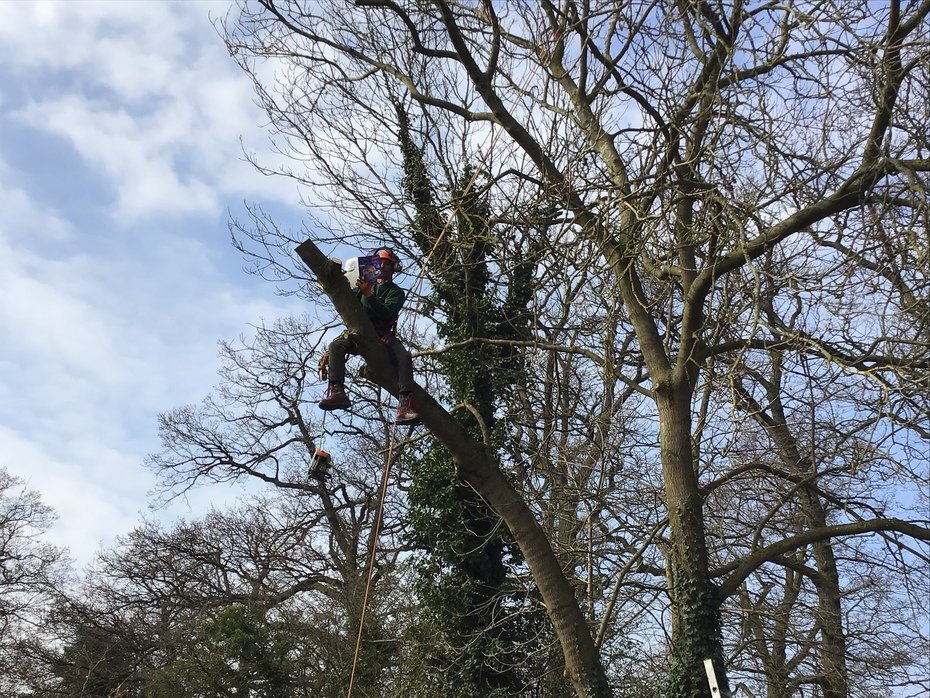 The children were fascinated by the spider's web that we found covered with baby spiders. We looked closely at the detail and discussed the life of a spider. This was a great opportunity for the children to extend their understanding of the natural world.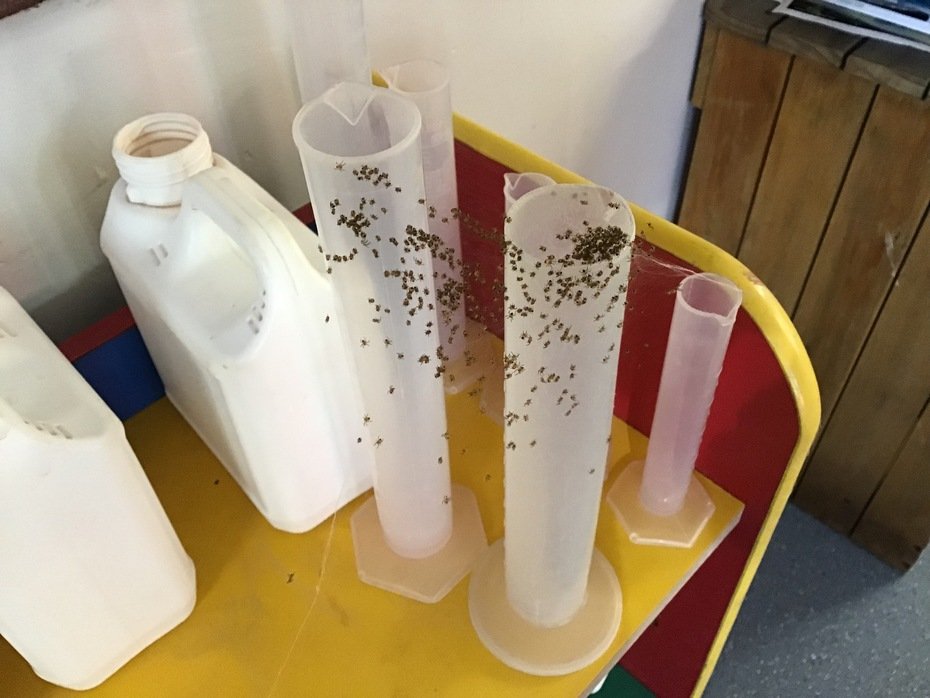 Our story this week, 'The Colour Monster', has been a fantastic starting point for discussing and naming feelings. It enabled us to consider what makes us happy, sad, angry, scared and calm; what makes us feel these and strategies that we can do to help. The children have had the opportunity to draw a feeling in a jar and pictures to support it.
We read the Rainbow Fish story and then did a music and movement session to Ludovico Einaudi Nefeli. We danced around as the fish in the ocean, as one of us pretended to be the rainbow fish with shimmering scales (chiffon scarves). We played out the scenario of eventually sharing the scales and how it made us all feel.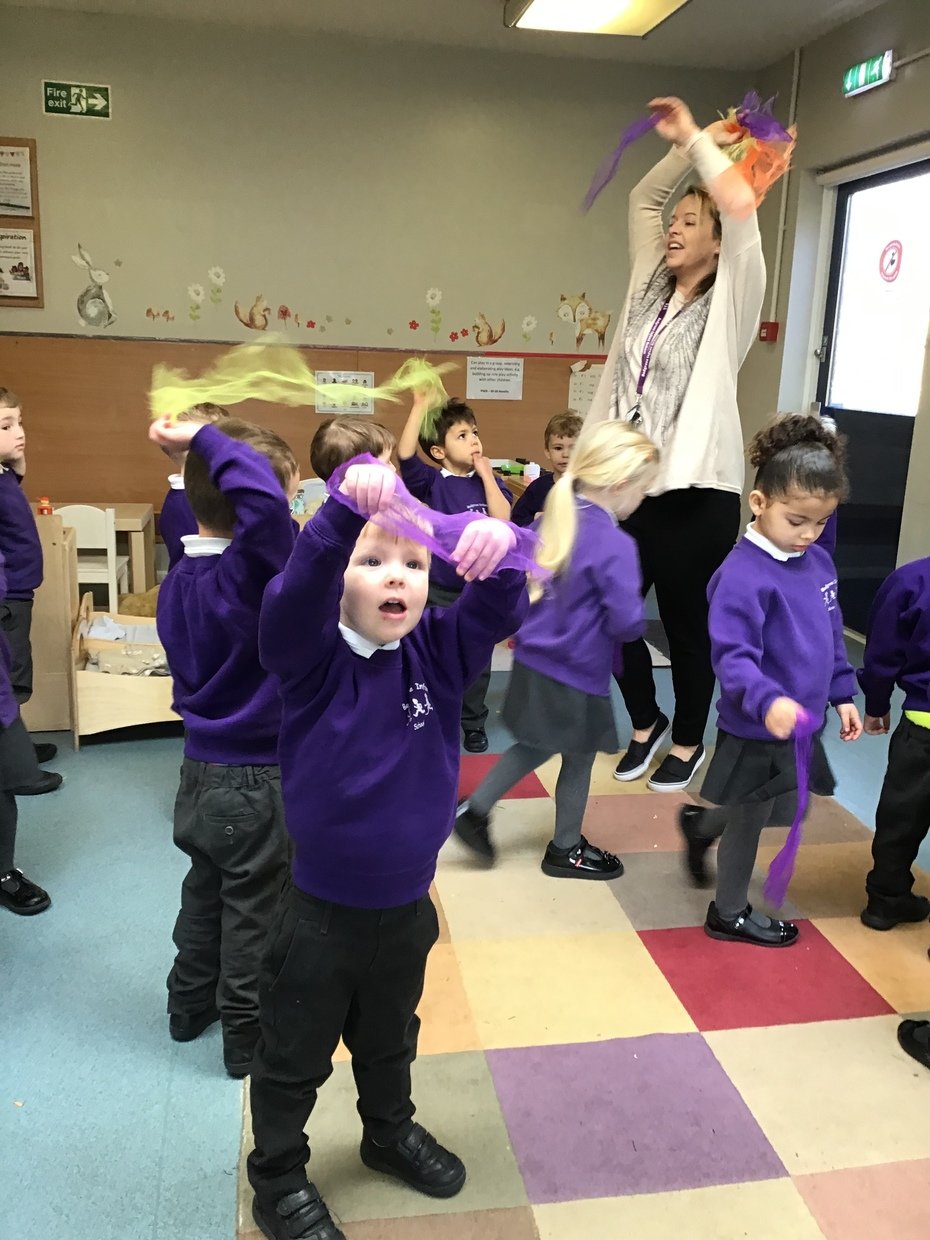 Don't forget the Easter Bonnet parade on Thursday, we are looking forward to seeing all of your creations.
The children have each drew some amazing pictures of their mummies, which have been made into keyrings for mother's day gifts. Happy Mother's Day!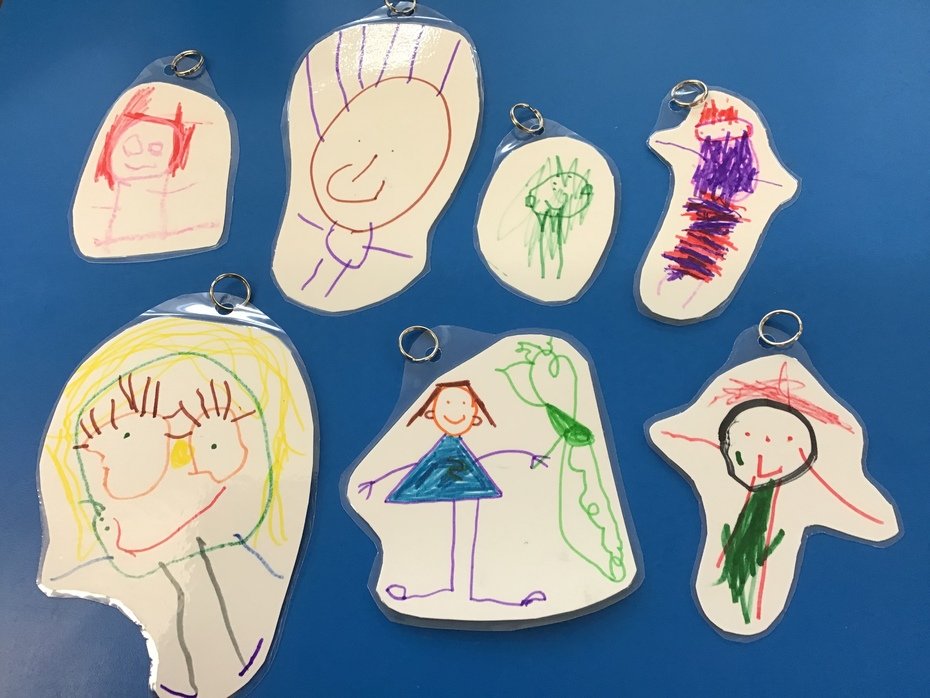 The story next week will be 'We're going on an egg hunt'. We will have lots of Easter fun happening throughout the week.
As of after the Easter holidays we would like the children to be dropped at the gate and enter the Nursery by themselves. This should set the children up to make a good transition to the F2 routine next year. If you would like to start this from next week, to get your children ready for this adaption to their routine, please feel free to start. Many of the children have already begun this themselves.
---
V Alford (admin) on: F1 Blog
This week we found giant footsteps in our garden, they were huge! The children thought about how they had got there and compared the size of his feet to ours. The footsteps lead to bag of magic beans.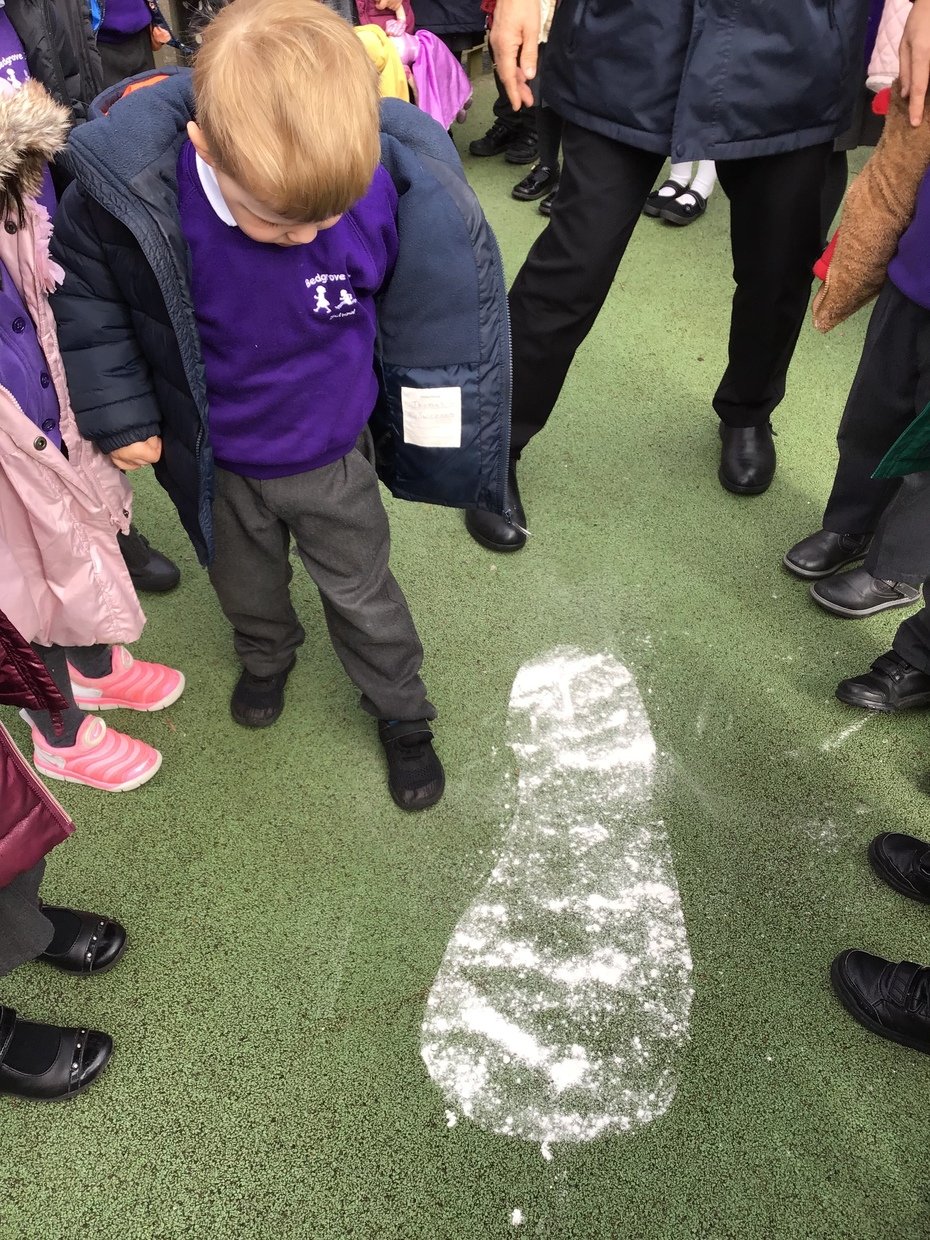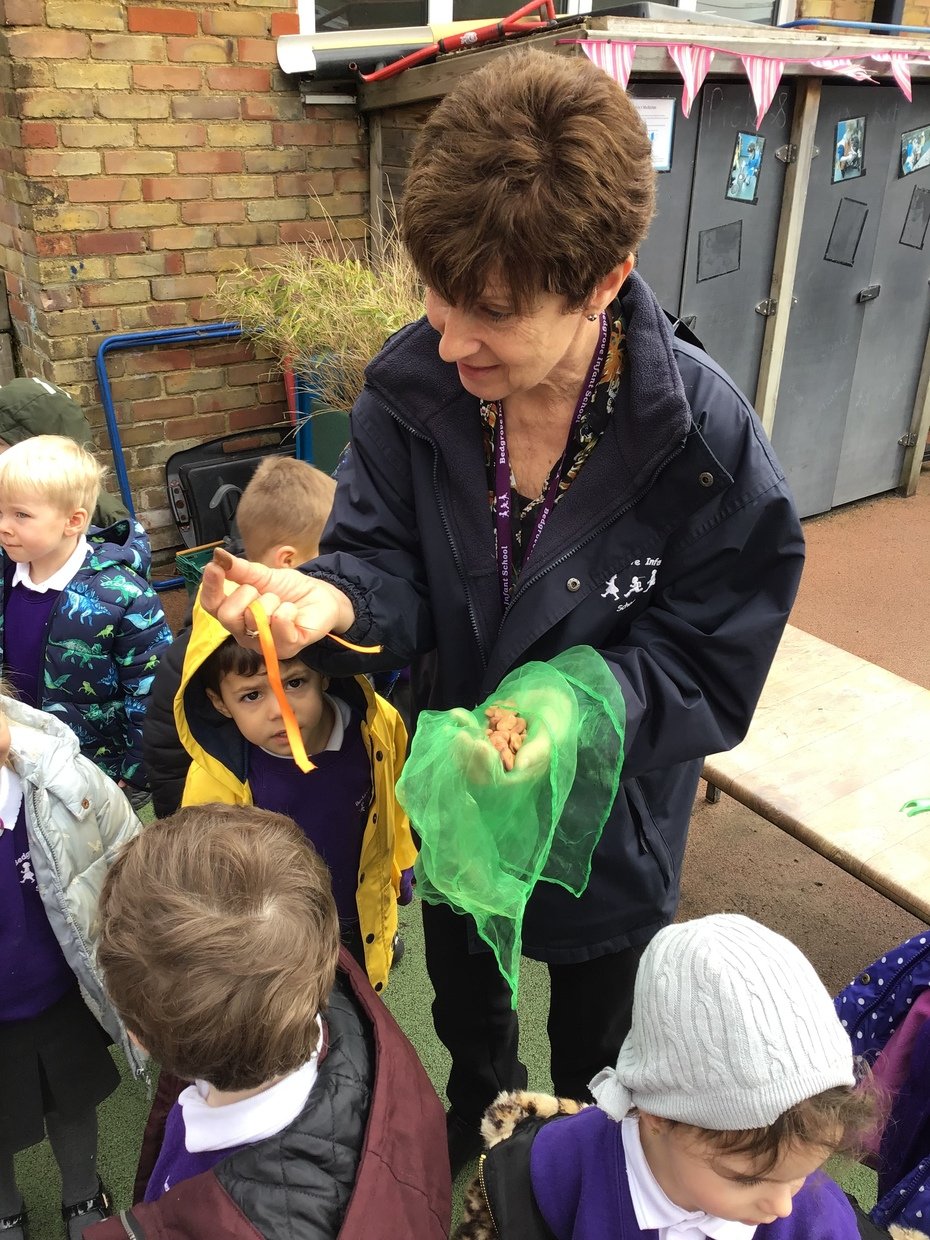 The children thought that we should plant them to see what happens. We drew instructions and thought through the steps that we needed to follow to plant the beans including: planting, watering and placing near the sunshine. The children attempted to write their own names on the labels. We will be observing the changes of the beans over time.
We have been able to discuss height, using the language tall, tallest, short, shortest. We were outside building beanstalks outside which helped the children to visually compare the height of themselves and their beanstalk (tower of bricks).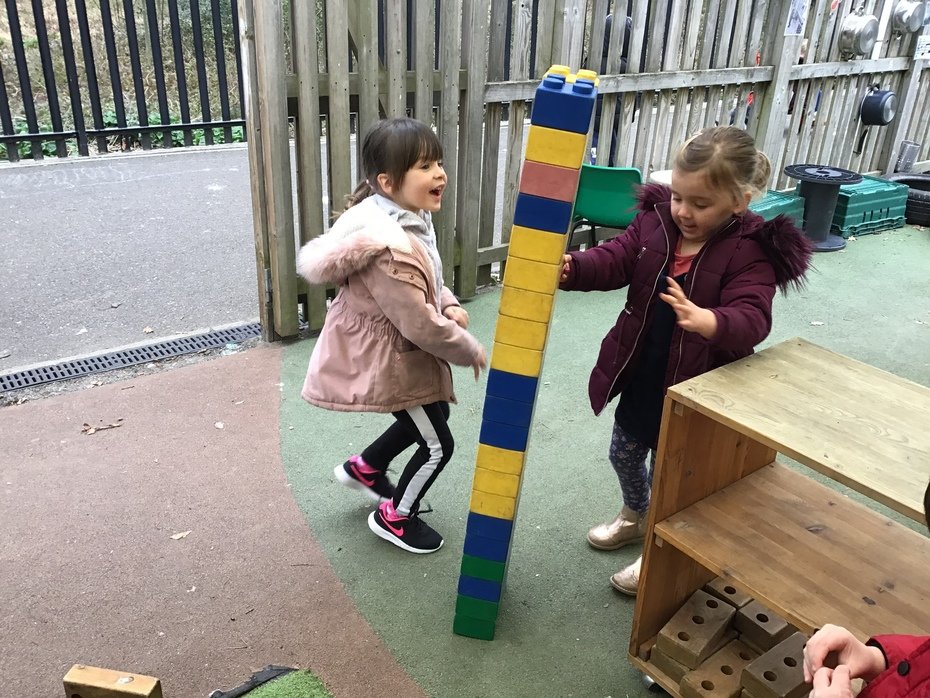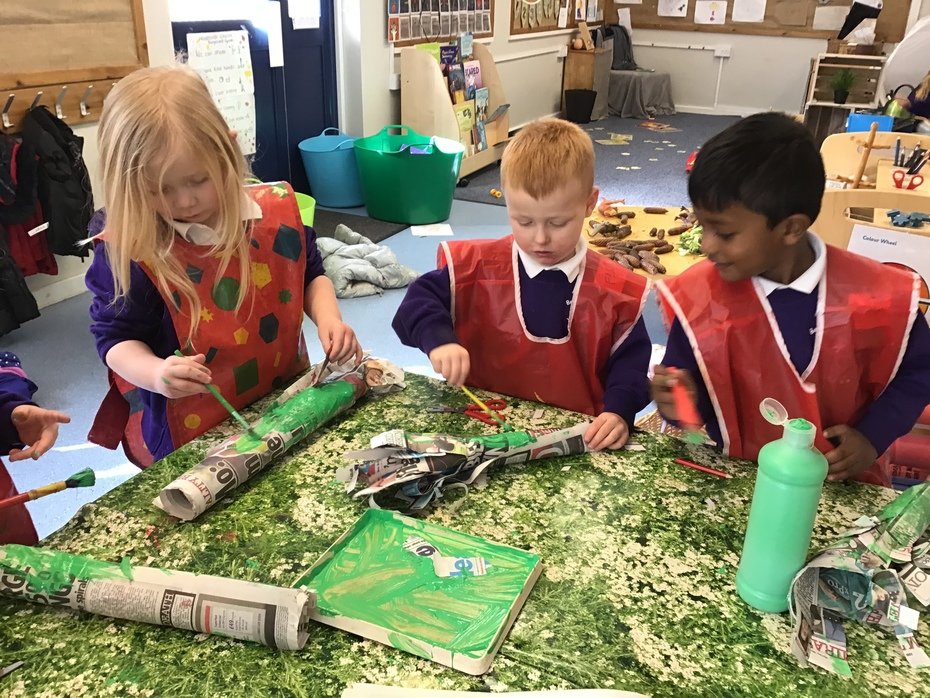 We have drawn story maps in our group times which has really influenced the children's drawing during their play. Many of the children have been retelling the story. We had a fantastic time choosing sides; Giant or Jack. The children sat on opposite sides of the room and acted out their chosen character's part with great enthusiasm. This helped us to consider who the children preserved as the 'baddie' of the story. The children philosophised over their opinions putting forward cases of: Jack stole the chicken, so he was the baddie, or the giant was angry so he was the baddie. The opinions were divided, so the children chose their own character to draw on a WANTED poster, warning the rest of the school.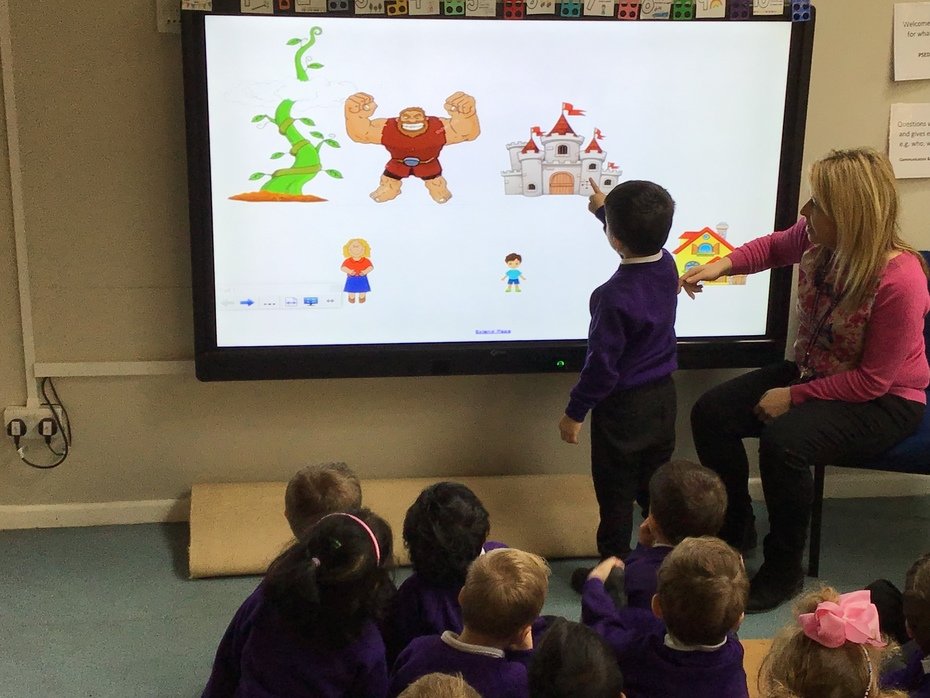 We have explored using charcoal, looking in the mirror at our own features and drawing self-portraits, we promise we haven't been sending them up chimneys!!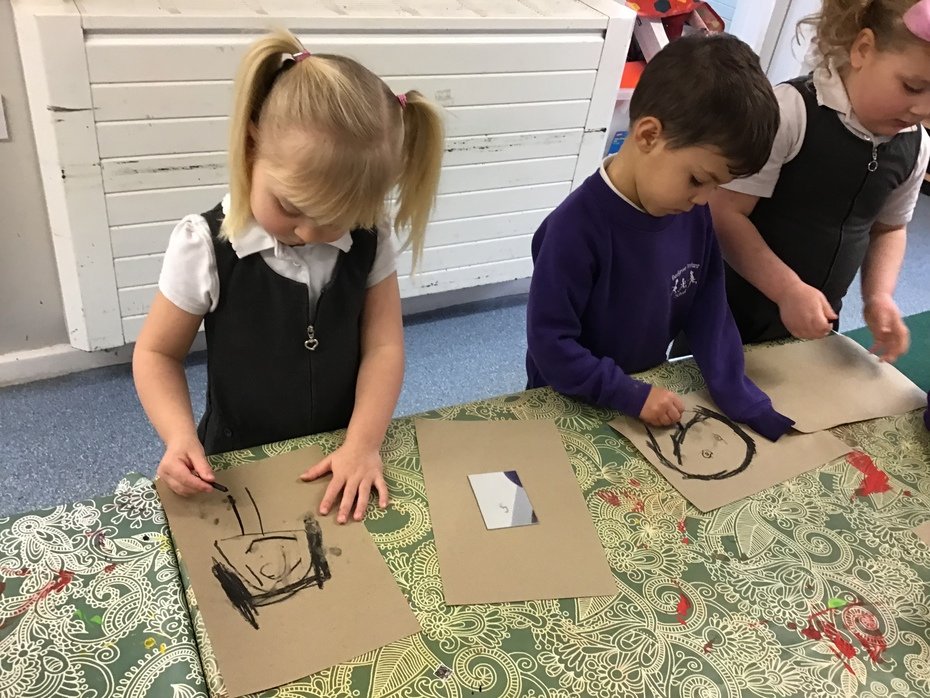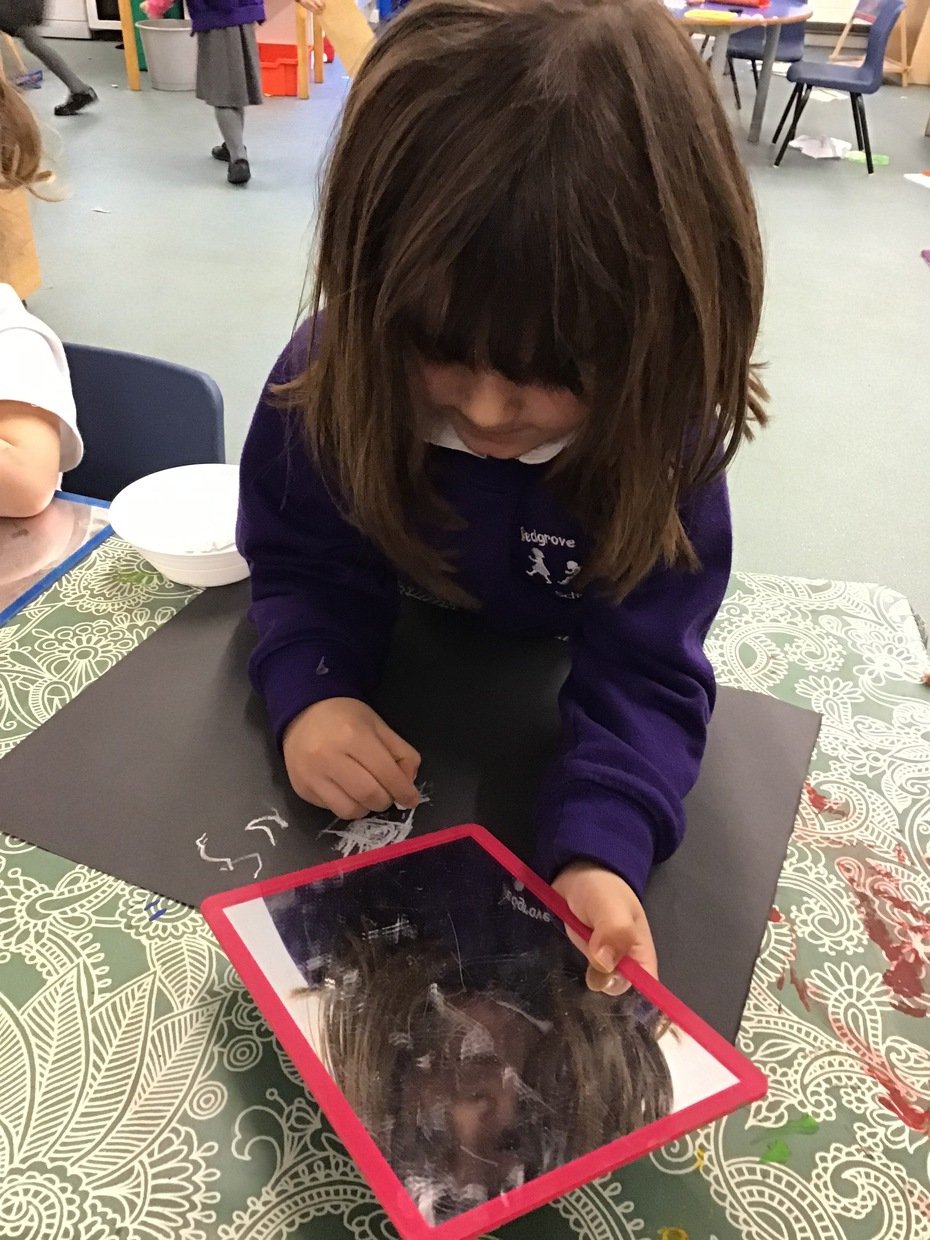 For phonics this week we have been singing some new songs with blending and segmenting of words. At home you could try to encourage this skill by breaking up the sounds in words (not the names of the letters) saying things like: can you get your h-a-t? You have water in your c-u-p.
Home learning for this half term has been placed in your child's bag. Please either place pictures on the sheet provided or attach them to an email to our home learning email address.
We have a fantastic book for next week that is called 'The Colour Monster'. This is a wonderful story about a monster that has his colours (feelings) all stirred up and we need to help him to sort them out. We are focusing on shape next week, looking at the properties of simple 2d shapes, naming the amount of sides and corners; straight or curved.
Thank you for all of your chocolate egg donations. The children had a fun mufti day!
---
Foundation 1
The Woodlands
Learning through play is the only way!
As the children embark on their exciting journey through education, we are passionate about making this a fun and happy start: inspiring a life long love of learning.
Young children learn best through their engagement in play. We resource the environment and support their learning by following the children's fascinations and interests. Their ability to access and choose freely encourages the development of the characteristics of effective learning. Our provision stimulates the children's natural curiosity to interact with the world and make sense of it. They have free access to a range of child initiated and adult led activities both indoors and outdoors, which cover the Early Years Foundation Stage curriculum.
The nurturing nature of our Nursery team means that children feel secure and are able to develop strong relationships with both the adults that care for them and their peer group. Our Early Years Practitioners have key groups which include Foxes, Hedgehogs, Badgers and Squirrels. The children have a group time, which is a short focused activity based on maths, phonics, literacy and physical development.
Each week, based on our observations of the children's interests we choose a story which influences a number of activities that are offered to the children. The text is read throughout the week and is delivered in a variety of ways; using puppets, story mapping and acting it out. The repetition of the story means that it influences the children's play, extends their vocabulary, build's their knowledge of stories and their structure, extend's their repertoire of books and promotes a love of reading. By the end of the week the children have a real ownership of the story and are able to join in with telling the story themselves.
The benefit of the children attending our Nursery provision means that their transitions to school are smooth. They are familiar with routines, behavioural boundaries & expectations and the F2 team. All of which means that we are able to send the children off to their first day at school well prepared, confident and ready to learn.
NURSERY PLACES SEPTEMBER 2018
In September 2018, we will be offering the following options when you register for a place in our Nursery (Foundation 1 class)
* 15 hours funded place: all 3-4 year olds are eligible for free 15-hour Nursery education and you can join us from 8.45 am till 11.45 am each day.
* 30 hours funded place: if you are eligible for a free 30-hour nursery education you can join us from 8.45 am till 2.45 pm each day. (Please go to www.childcarechoices.gov.uk To find out if you meet the criteria for one of these places)
* 30 hours top-up place: if you are not eligible for free 30-hour place you can opt to pay for the extra five afternoon sessions at £19.50 for each day.
* 24 hours funded place: if you are eligible for a free 30-hour place but would prefer your child to come for more than 15 hours but less than 30, we are offering a 24-hour place, where your child comes all day (8.45-2.45) Monday, Wednesday and Friday and mornings only (8.45-11.45) on Tuesday and Thursdays.
* 24 hours top-up place: if you are not eligible for free 30-hour place you can opt to pay for the extra three afternoon sessions; Monday, Wednesday and Friday at £19.50 per session.
If your child is here all day, you have the choice of providing them with a packed lunch or buying a hot school meal at £2 per day. Our meals are all cooked freshly on site each day by an experienced chef who used to work in hotels in London and his amazing team! Our menu is available on the website under the Parents tab for you to see what we offer.
We have a before and after school club called Sunflower Group, running from 8.00 am till 9.00 am and 3.00 pm till 4.00 pm to extend your day a little further. Your child will be taken from Sunflower Group to Nursery in the morning and from nursery to Sunflower Group in the afternoon. The cost of this is £3 per session (morning or afternoon) and is bookable through our online ParentMail system once you are a parent of our school.
We also have Grover Club on site, a private Before and After-School Club, running from 7.30 am till 9.00 am and 3.00 pm till 6.30 pm each school day and full time in the school holidays. Grover take children from when they turn 4 years of age up to 11 years old (children can remain with them once they transfer to the Junior school for Year 3). Their Manager, Mrs Carter, can be contacted on 07879 876 830 to book a place on their waiting list. They are very popular!
Please contact the school office on 01296 481353 to talk to Theresa Headley about our Nursery places.
Home Learning:
Each half term we will suggest an activity or experience that you may like to do with your children at home to extend their learning. We display any work or photographs that your children produce in your child's classroom. We now have an email address that you can send their home learning in to.
The email address is: homelearning@bedgroveinfant.co.uk
This will only be checked once per week, so please do not use this email address for anything other than home learning, thank you.